默克有"料" | 非病毒载体,用于CRISPR体内递送的研究进展


[1] Finn, J. D.; Smith, A. R.; Patel, M. C., et al., A Single Administration of CRISPR/Cas9 Lipid Nanoparticles Achieves Robust and Persistent In Vivo Genome Editing. Cell Rep. 2018, 22 (9), 2227-2235.
[2] Wang, M.; Zuris, J. A.; Meng, F., et al., Efficient Delivery of Genome-Editing Proteins Using Bioreducible Lipid Nanoparticles. Proc. Natl. Acad. Sci. U. S. A. 2016, 113 (11), 2868-2873.
[3] Lin, Y.; Wu, J.; Gu, W., et al., Exosome-Liposome Hybrid Nanoparticles Deliver CRISPR/Cas9 System in MSCs. Adv. Sci. 2018, 5 (4), 1700611.
[4] Li, L.; Song, L.; Liu, X., et al., Artificial Virus Delivers CRISPR-Cas9 System for Genome Editing of Cells in Mice. ACS nano 2017, 11 (1), 95-111.
[5] Liu, Q.; Zhao, K.; Wang, C., et al., Multistage Delivery Nanoparticle Facilitates Efficient CRISPR/dCas9 Activation and Tumor Growth Suppression In Vivo. Adv. Sci. 2019, 6 (1), 1801423.
[6] Zhang, Z.; Wan, T.; Chen, Y., et al., Cationic Polymer-Mediated CRISPR/Cas9 Plasmid Delivery for Genome Editing. Macromol. Rapid Commun. 2019, 40 (5), 1800068.
[7] Mout, R.; Ray, M.; Yesilbag Tonga, G., et al., Direct Cytosolic Delivery of CRISPR/Cas9-Ribonucleoprotein for Efficient Gene Editing. ACS nano, 2017, 11 (3), 2452-2458.
[8] Alsaiari, S. K.; Patil, S.; Alyami, M., et al., Endosomal Escape and Delivery of CRISPR/Cas9 Genome Editing Machinery Enabled by Nanoscale Zeolitic Imidazolate Framework. J. Am. Chem. Soc. 2018, 140 (1), 143-146.
[9] Zhou, W.; Cui, H.; Ying, L., et al., Enhanced Cytosolic Delivery and Release of CRISPR/Cas9 by Black Phosphorus Nanosheets for Genome Editing. Angew. Chem. 2018, 57 (32), 10268-10272
[10] Wang, P.; Zhang, L.; Zheng, W., et al., Thermo‐Triggered Release of CRISPR‐Cas9 System by Lipid‐Encapsulated Gold Nanoparticles for Tumor Therapy. Angew. Chem. 2018, 57 (6), 1491-1496.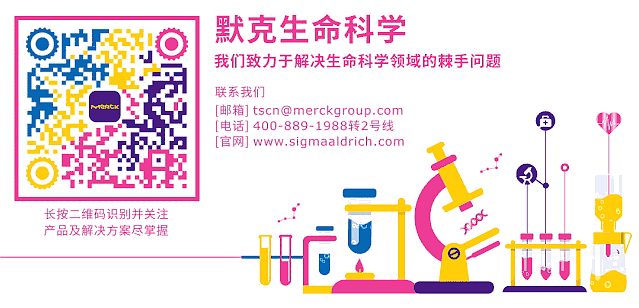 点击阅读原文,查看默克生物医学材料产品概览