Assistant Professor Ming Joo Koh (许民瑜)
(President's Assistant Professor)
2012–2018: Ph.D. & Post-Doc in Organic Chemistry, Boston College, MA, USA
2008–2012: B.Sc. in Chemistry & Biological Chemistry, First Class Honors, Nanyang Technological University, Singapore
Contact Information
MD1-17-03C
Department of Chemistry, National University of Singapore
12 Science Drive 2
Singapore 117549
Email: chmkmj@nus.edu.sg
Website: https://www.mjkohgroup.com/
Ph.D. Positions Available
We have positions available for individuals who are interested in pursuing Ph.D. studies in Singapore. Talented and self-motivated chemists with a strong background in synthetic organic chemistry, organometallic chemistry, radical chemistry and/or natural product synthesis are welcome to join us. Good English proficiency and communication skills are mandatory.
Interested candidates with offer letters from USA or UK are highly encouraged to apply to Dr. Koh via email: chmkmj@nus.edu.sg. Prestigious President's Graduate Fellowships (PGF) are available for these candidates: http://www.nus.edu.sg/registrar/prospective-students/graduate/scholarship/president-s-graduate-fellowship-(pgf)
Other candidates are highly encouraged to apply for CSC funding to secure Ph.D. positions in the Koh group.
Please visit Dr. Koh's webpages at http://www.chemistry.nus.edu.sg/people/academic_staff/kohmj.htm and https://www.mjkohgroup.com/ and send electronic copies of your curriculum vitae (CV) as well as academic transcripts to Dr. Koh via email: chmkmj@nus.edu.sg. For more information, please contact Dr. Koh.
Research Interests
The key objective of our program is to develop sustainable and enabling catalytic solutions that address critical and unresolved problems in chemical synthesis. Our research approach will leverage creative, direct and unprecedented disconnections of complex target molecules to fuel our efforts in devising practical methods that utilize abundant, biocompatible and inexpensive catalysts. Insights gained from mechanistic studies will aid us in designing new catalyst systems that promote transformations to facilitate economically and environmentally viable preparation of important compounds for the chemical, pharmaceutical and polymer industries. Current topics of interest include homogeneous base metal catalysis, heterogeneous single-atom catalysis and radical chemistry. We cordially welcome collaborations in all areas of research including total synthesis, computational studies, chemical biology and materials science.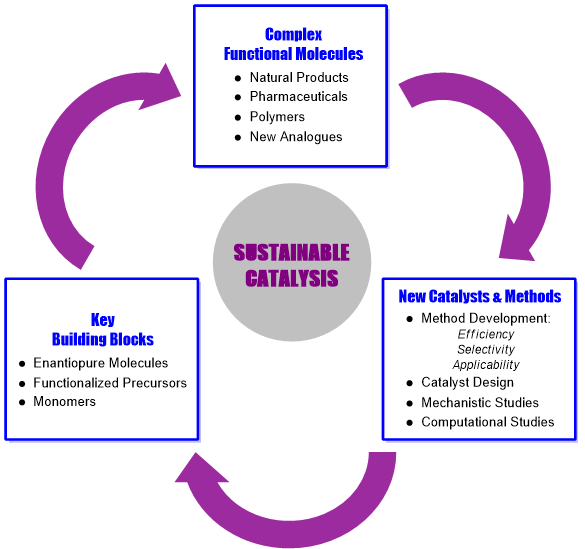 Recent Highlight
Yu, X.; Zhao, H.; Xi, S.; Chen, Z.; Wang, X.; Wang, L.; Lin, L. Q. H.; Loh, K. P.; Koh, M. J. Site-Selective Alkene Borylation Enabled by Synergistic Hydrometallation and Borometallation. Nat. Catal. 2020, DOI: 10.1038/s41929-020-0470-9.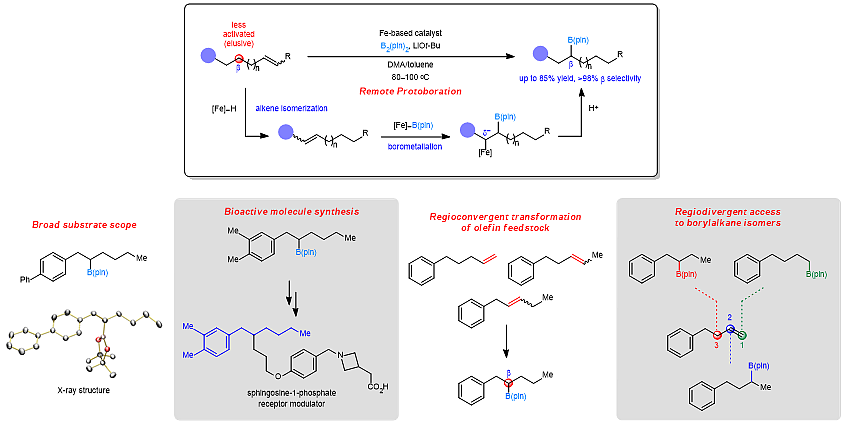 Representative Publications
1. Tao, Y.; Chen, X.; Rao, W.; Koh, M. J. Broadly Applicable Directed Catalytic Reductive Difunctionalization of Alkenyl Carbonyl Compounds. Chem 2020, 6, 738.
2. Chen, Z.; Liu, C.; Liu, J.; Li, J.; Xi, S.; Chi, X.; Xu, H.; Park, I.-H.; Peng, X.; Li, X.; Yu, W.; Liu, X.; Zhong, L.; Leng, K.; Huang, W.; Koh, M. J.*; Loh, K. P.* Cobalt Single-Atom-Intercalated Molybdenum Disulfide for Sulfide Oxidation with Exceptional Chemoselectivity. Adv. Mater. 2020, 32, 1906437.
3. Liu, C.; Chen, Z.; Yan, H.; Yam, K. M.; Gao, J.; Du, Y.; Xi, S.; Li, J.; Zhao, X.; Xu, H.; Li, X.; Fu, W.; Leng, K.; Xie, K.; Pennycook, S. J.; Liu, B.; Zhang, C.; Koh, M. J.*; Loh, K. P.* Expedient Synthesis of E-Hydrazone Esters and 1H-Indazole Scaffolds through Heterogeneous Single-Atom Platinum Catalysis. Sci. Adv. 2019, 5, eaay1537.
4. Mu, Y.; Nguyen, T. T.; Koh, M. J.; Schrock, R. R.; Hoveyda, A. H. E- and Z-, Di-,and Trisubstituted Alkenyl Nitriles through Catalytic Cross-Metathesis. Nat. Chem. 2019, 11, 478.
5. Nguyen, T. T.*; Koh, M. J.*; Mann, T. J.; Schrock, R. R.; Hoveyda, A. H. Synthesis of E- or Z-Trisubstituted Alkenes by Catalytic Cross-Metathesis. Nature 2017, 552, 347.
6. Koh, M. J.; Nguyen, T. T.; Lam, J. K.; Torker, S.; Hyvl, J.; Schrock, R. R.; Hoveyda, A. H. Molybdenum Chloride Catalysts for Z-Selective Olefin Metathesis Reactions. Nature 2017, 542, 80.
7. Nguyen, T. T.; Koh, M. J.; Shen, X.; Romiti, F.; Schrock, R. R.; Hoveyda, A. H. Kinetically Controlled E-Selective Catalytic Olefin Metathesis. Science 2016, 352, 569.
8. Koh, M. J.; Nguyen, T. T.; Zhang, H.; Schrock, R. R.; Hoveyda, A. H. Direct Synthesis of Z-Alkenyl Halides by Catalytic Cross-Metathesis. Nature 2016, 531, 459.
9. Koh, M. J.; Khan, R. K. M.; Torker, S.; Yu, M.; Mikus, M. S.; Hoveyda, A. H. High-Value Alcohols and Higher-Oxidation-State Compounds by Catalytic Z-Selective Cross-Metathesis. Nature 2015, 517, 181.