RSC主编推荐:纳米领域精彩文章快览(免费阅读原文)
英国皇家化学会(RSC)是一个超过175年历史的面向全球化学家的非营利会员制机构,旗下拥有44种期刊,其中很多在化学领域有很高影响力。为了进一步帮助广大读者追踪科技前沿热点,X-MOL团队与英国皇家化学会合作,推出英国皇家化学会期刊主编推荐的精彩文章快览,本期文章属"纳米领域",英文点评来自英国皇家化学会期刊的主编。如果大家对我们的解读有更多的补充和点评,欢迎在文末写评论发表您的高见!
Chemical Science (IF: 9.556)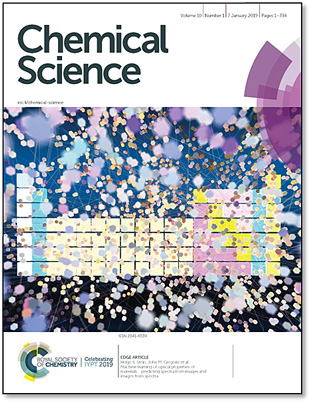 1. Tumor-acidity activated surface charge conversion of two-photon fluorescent nanoprobe for enhanced cellular uptake and targeted imaging of intracellular hydrogen peroxide
Chem. Sci., 2019, Advance Article
DOI: 10.1039/C9SC03781K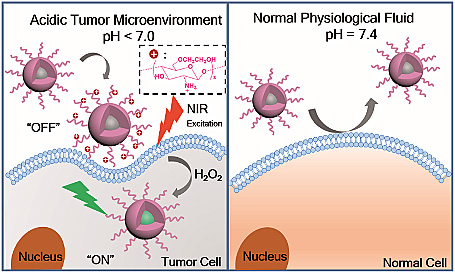 Researchers from China have developed a two-photon fluorescent nanoprobe for the tumor-targeted imaging of intracellular hydrogen peroxide. The probe is made from grafting H2O2-responsive and two-photon fluorophore, NABP, onto hydrophilic biopolymer glycol chitosan (GC). The nanoprobe exhibited good sensitivity and selectivity and could be applied to imaging intracellular hydrogen peroxide in tumours.
Open Access(可免费阅读原文)
扫描或长按二维码,识别后直达原文页面,或点此查看原文

2. Three-dimensional DNA nanostructures to improve the hyperbranched hybridization chain reaction
Chem. Sci., 2019, Advance Article
DOI: 10.1039/C9SC02281C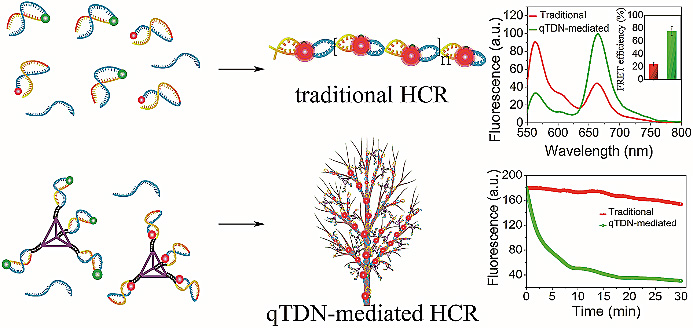 Scientists at Nankai University have developed an innovative strategy to improve the efficiency of the DNA hybridization chain reaction (HCR) using DNA nanotechnology and nucleic acid amplification. DNA hairpins are assembled at the vertexes of quadrivalent tetrahedral DNA nanostructures (qTDNs), which enhances the reaction kinetics of HCR and the DNA nanostructures enhance the cell internalisation efficiency and biostability of the DNA probes.
Open Access(可免费阅读原文)
扫描或长按二维码,识别后直达原文页面,或点此查看原文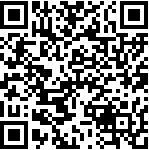 Nanoscale Horizons (IF: 9.095)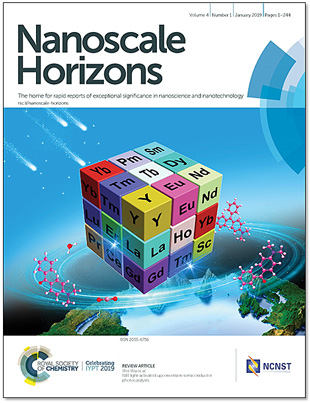 1. Polarity-controllable MoS2 transistor for adjustable complementary logic inverter applications
Nanoscale Horiz., 2019, Advance Article
DOI: 10.1039/C9NH00275H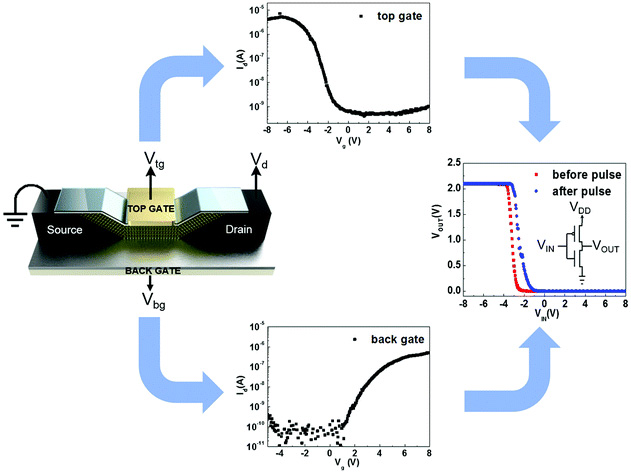 A MoS2-based field effect transistor is reported that can alternately operate as either a p- or n-type semiconductor in the same device. Compared to existing individual devices, this device could save almost twice the process time and price. This concept is useful and valuable for the future fabrication of advanced devices. We believe that these discoveries will not just lower the cost of production but will also revolutionize future complementary metal-oxide–semiconductor technology.
限时免费阅读原文,登录后可下载
扫描或长按二维码,识别后直达原文页面,或点此查看原文

2. Role of the anatase/TiO2(B) heterointerface for ultrastable high-rate lithium and sodium energy storage performance
Nanoscale Horiz., 2019, Advance Article
DOI: 10.1039/C9NH00402E
Anatase TiO2, extensively studied previously as the anode material of lithium-ion batteries (LIBs), has recently attracted much attention as the anode for sodium-ion batteries (SIBs) because of its low-cost, non-toxicity and 3D open structure. However, the capacity and rate capability are kinetically restricted by its poor electrical conductivity, phase transition and agglomeration. Herein, the authors employed a one-step hydrothermal and post-heat method for the fabrication of anatase/TiO2(B) dual-phase nanoflower anodes, to elucidate the role of the anatase/TiO2(B) heterointerface in LIBs and SIBs. The kinetics analyses and DFT calculations revealed that the anatase/TiO2(B) heterointerface can act as an 'ion reservoir', arising from the lower adsorption energies of Li+/Na+ as well as the internal electric field at the anatase/TiO2(B) interface, which provided more sites for Li+/Na+ storage and ameliorated charge transport. This work is of utmost significance to guiding the rational design of multi-functional electrode materials for secondary batteries.
限时免费阅读原文,登录后可下载
扫描或长按二维码,识别后直达原文页面,或点此查看原文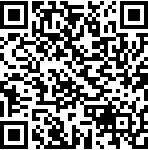 3. Antimonene-based flexible photodetector
Nanoscale Horiz., 2019, Advance Article
DOI: 10.1039/C9NH00445A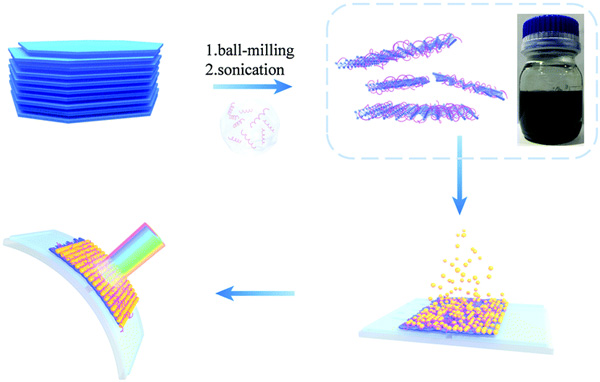 As a new 2D material, antimonene has drawn intensive attention in recent years. However, the practical application of antimonene in the optoelectronic field has been limited though, by the lack of a high concentration and stable "ink" that is suitable for device fabrication. Compared with other 2D materials, antimonene has a short layer distance and strong binding energy, and hence, requires different exfoliation and surface modification methods. In this article we report the efficient fabrication and surface modification of antimonene nanosheets by polymer ionic liquid (PIL) assisted liquid exfoliation. This new method yields micron-size antimonene nanosheets over 20%, and to our best knowledge, this is the highest yield ever reported in the literature. Flexible photodetectors based on hybrid structures of surface modified few layer antimonene were successfully fabricated.
限时免费阅读原文,登录后可下载
扫描或长按二维码,识别后直达原文页面,或点此查看原文