RSC主编推荐:纳米领域精彩文章快览(免费阅读原文)
英国皇家化学会(RSC)是一个超过175年历史的面向全球化学家的非营利会员制机构,旗下拥有44种期刊,其中很多在化学领域有很高影响力。为了进一步帮助广大读者追踪科技前沿热点,X-MOL团队与英国皇家化学会合作,推出英国皇家化学会期刊主编推荐的精彩文章快览,本期文章属"纳米领域",英文点评来自英国皇家化学会期刊的主编。如果大家对我们的解读有更多的补充和点评,欢迎在文末写评论发表您的高见!
Chemical Science (IF: 9.556)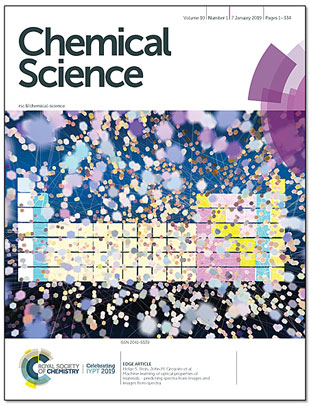 1. In situ real-time tracing of hierarchical targeting nanostructures in drug resistant tumors using diffuse fluorescence tomography
Chem. Sci., 2019, Advance Article
DOI: 10.1039/C9SC01841G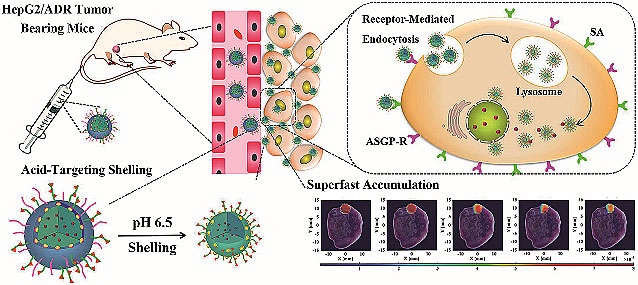 Currently, limited routes are available for stimuli responsive nanoparticles to address multidrug resistance. Scientists from China have developed a theranostic nanoplatform with a zwitterionic shell that peels off in acidic tumour environments, allowing the nanoparticles to penetrate into tumour cells. Tumour growth was completely inhibited, and a 5-fold increase in the rate of drug accumulation is achieved, without causing any damage to normal organ tissue.
Open Access(可免费阅读原文)
扫描或长按二维码,识别后直达原文页面,或点此查看原文

2. Dynamic colloidal nanoparticle assembly triggered by aptamer–receptor interactions on live cell membranes
Chem. Sci., 2019, Advance Article
DOI: 10.1039/C9SC02693B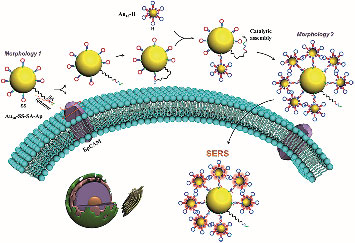 Researchers from China have engineered an aptamer and DNA displacement reaction-based dynamic system, consisting of a core nanoparticle and small satellite nanoparticles, which is capable of transforming its nanostructure in response to epithelial cell adhesion molecules on live cell membranes. The assembly through aptamer–receptor interactions can be captured by SERS. This provides a new strategy for engineering dynamic nano-systems for applications in complex biological environments.
Open Access(可免费阅读原文)
扫描或长按二维码,识别后直达原文页面,或点此查看原文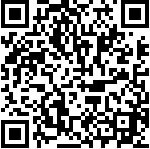 Nanoscale Horizons (IF: 9.095)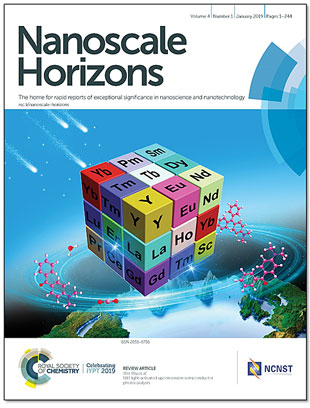 1. Top-down fabrication of small carbon nanotubes
Nanoscale Horiz., 2019, Advance Article
DOI: 10.1039/C9NH00285E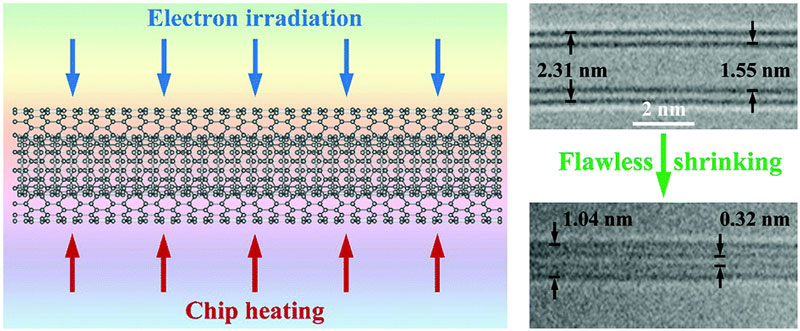 The diameter and chirality of carbon nanotubes (CNTs) should be well-defined and reproducible for applications like transistors or photoelectronic devices. However, synthesising consistent nanotubes is very hard and it is usually done using catalysts in bottom-up approaches. The authors of this work propose that there could be a strategy to produce CNTs through the opposite process, i.e., the continuous atom removal. They routinely made smaller nanotubes while maintaining their structural perfection. The smallest nanotubes reaching their theoretical diameter limits were easily reached for any few-walled CNTs (1–4 shells).
限时免费阅读原文,登录后可下载
扫描或长按二维码,识别后直达原文页面,或点此查看原文

2. A champagne inspired dual chain-responsive thrombolytic drug release platform based on black phosphorus nanosheets for accelerated thrombolysis
Nanoscale Horiz., 2019, Advance Article
DOI: 10.1039/C9NH00344D
Thrombolytic drugs are often easily neutralized in the blood reducing their therapeutic effect. You can't increase the dose to combat this becuase excess amounts of thrombolysis drugs can increase the lethal risk of hemorrhage. Here, authors designed a dual chain-responsive nanoplatform based on black phosphorus (BP) and mesoporous silica nanoparticles (MSNs) for thrombolytic drug delivery. BP can induce hyperthermia under the irradiation of a near-infrared laser, resulting in the accelerated release of the drug (uPA) and the generation of bubbles (the vaporization of perfluoro-n-pentane loaded into the MSNs). Thrombolytic assessment of this platform in vitro and in vivo reveals that the platform presents effective and safe thrombolytic drug delivery with accelerated and enhanced thrombolysis.
限时免费阅读原文,登录后可下载
扫描或长按二维码,识别后直达原文页面,或点此查看原文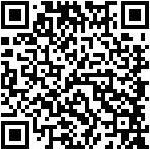 3. Surface functionalized 3D carbon fiber boosts the lithium storage behaviour of transition metal oxide nanowires via strong electronic interaction and tunable adsorption energy
Nanoscale Horiz., 2019, Advance Article
DOI: 10.1039/C9NH00327D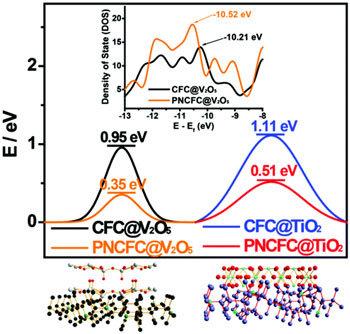 The Li-ion storage properties of transition metal oxide (TMOs) electrodes such as Li-ion intercalation-based electrodes are usually enhanced by hybridizing with 3D carbon scaffolds. However, understanding of the large variation in performance enhancement is rarely reported. As a proof of concept, intercalation reaction-based TMO (V2O5 and TiO2) nanowires were hybridized with two types of 3D carbon scaffolds (namely pristine carbon fiber cloth, CFC and porous N-doped CFC, PNCFC). Theoretical calculation predicts that the PNCFC@TMO hybrids displayed reasonably lower adsorption energy towards easier Li-ion intercalation than those of CFC@TMOs. Electrochemical properties further disclosed that PNCFC-based hybrids exhibit the best lithium storage performance. Furthermore, in situ Raman, XPS and charge redistribution studies not only decipher that strong electronic interaction exists between PNCFC and TMOs but also consistently affirm that such interaction is ascribed to the shift of the p-adsorption energy, facilitating rapid kinetics and leading to improved Li storage properties.
限时免费阅读原文,登录后可下载
扫描或长按二维码,识别后直达原文页面,或点此查看原文