RSC主编推荐:材料领域精彩文章快览(免费阅读原文)
英国皇家化学会(RSC)是一个超过175年历史的面向全球化学家的非营利会员制机构,旗下拥有44种期刊,其中很多在化学领域有很高影响力。为了进一步帮助广大读者追踪科技前沿热点,X-MOL团队与英国皇家化学会合作,推出英国皇家化学会期刊主编推荐的精彩文章快览,本期文章属"材料领域",英文点评来自英国皇家化学会期刊的主编。如果大家对我们的解读有更多的补充和点评,欢迎在文末写评论发表您的高见!
Chemical Science (IF: 9.063)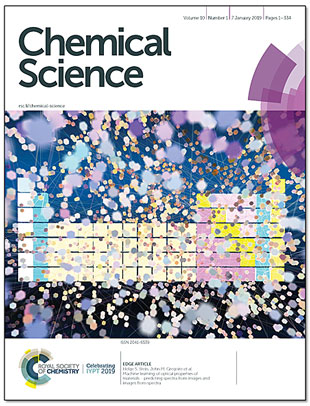 1. A structure–property study of fluoranthene-cored hole-transporting materials enables 19.3% efficiency in dopant-free perovskite solar cells
Chem. Sci., 2019, Advance Article
DOI: 10.1039/C9SC01697J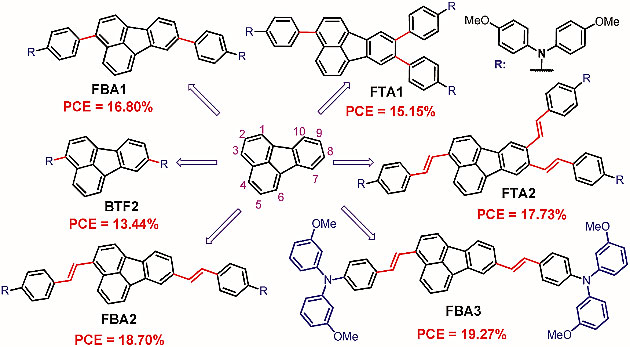 Researchers in China have developed a new class of cost-effective small molecule dopant-free HTMs using readily available fluoranthene as the structural framework. The structure–property correlation of the fluoranthene-based HTMs was carefully investigated by tuning their structural geometry, connection between electron-donating and electron-withdrawing moieties, and the substitution position of the methoxy side-groups. Their optimised molecule, FBA3, delivers an impressive power conversion efficiency of 19.27%.
中国的研究人员使用易获得的荧蒽作为结构框架,开发了一类新的具有成本效益的小分子无掺杂空穴传输材料(HTM)。通过调整结构的几何形状、给电子与吸电子结构之间的连接以及甲氧基侧基的取代位置,详细研究了基于荧蒽的HTM的结构与性质之间的相关性。经过优化的分子FBA3的能量转换效率达到了19.27%。
Open Access(可免费阅读原文)
扫描或长按二维码,识别后直达原文页面,或点此查看原文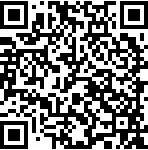 2. Poly(ionic liquid)s as a distinct receptor material to create a highly-integrated sensing platform for efficiently identifying numerous saccharides
Chem. Sci., 2019, Advance Article
DOI: 10.1039/C9SC02266J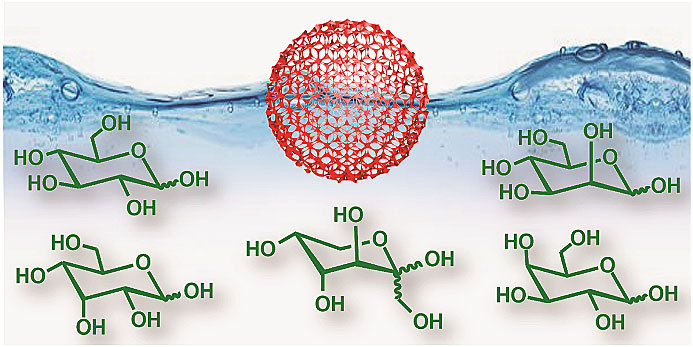 Researchers in China have developed an aggregation-induced emission (AIE)-doped photonic structured PIL sphere. It is found that such a sphere can serve as a highly integrated platform to provide abundant fingerprints for directly sensing numerous saccharides with an unprecedented efficiency. As a demonstration, 23 saccharides have been conveniently identified using only one sphere. More importantly, by using simple ion-exchanges of PIL receptors or/and increasing the AIE signaling channels, this platform is able to perform, on demand, different sensing tasks very efficiently.
中国的研究人员开发了一种掺杂聚集诱导发光(AIE)的光子结构聚离子液体(PIL)球,并发现这类PIL球可以作为高度集成的平台,为直接且高效的多种糖类感测提供指纹信息。作为演示,作者仅使用一个PIL球就方便地鉴定出了23种糖类。更重要的是,通过使用PIL受体的简单离子交换或/和增加AIE信号通道,该平台能够高效地按需执行不同的感测任务。
Open Access(可免费阅读原文)
扫描或长按二维码,识别后直达原文页面,或点此查看原文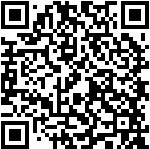 Materials Horizons (IF:13.183)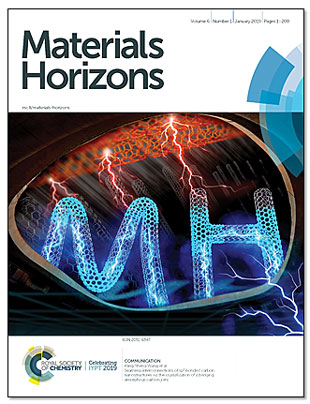 1. Design and synthesis of two-dimensional covalent organic frameworks with four-arm cores: prediction of remarkable ambipolar charge-transport properties
Mater. Horiz., 2019, Advance Article
DOI: 10.1039/C9MH00035F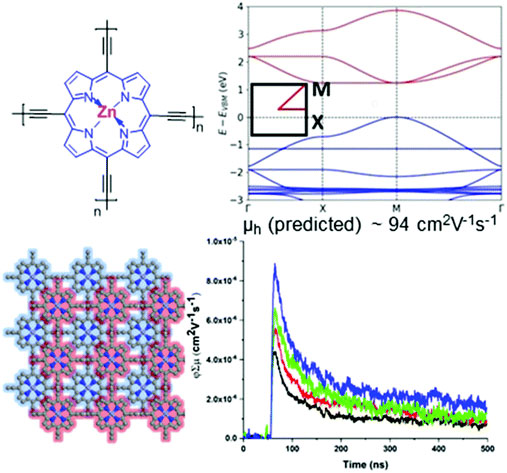 Two-dimensional fully π-conjugated covalent organic frameworks (COFs) represent an emerging class of materials with rich chemistry and physics. Up to now, the charge-carrier mobility within a single, isolated layer of such COFs had not been characterized. Here, we show theoretically that the mobility in these systems can be described on the basis of concepts similar to those applied to organic mixed-valence systems and can potentially reach values higher than in the best organic crystalline semiconductors.
二维全π-共轭的共价有机框架(COF)代表了一类具有丰富化学和物理特性的新兴材料。迄今,在COF独立单层内的载流子迁移率尚未得到表征。在本文中,作者从理论上证明了这类体系中的迁移率可以用基于类似那些应用于有机混合价体系的概念来描述,并且有可能比最佳有机晶体半导体中的值高。
限时免费阅读原文,登录后可下载
扫描或长按二维码,识别后直达原文页面,或点此查看原文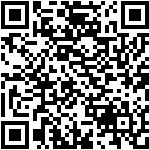 2. From waste epoxy resins to efficient oil/water separation materials via a microwave assisted pore-forming strategy
Mater. Horiz., 2019, Advance Article
DOI: 10.1039/C9MH00541B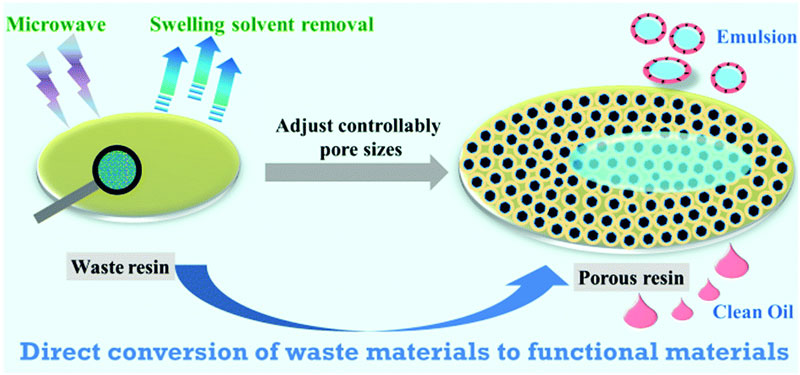 In this work, we develop a facile approach towards transforming waste polymers into advanced materials. Interpenetrating micro/nanopores can be controllably produced by microwave-assisted swelling of waste thermoset polymers in green solvents. The obtained porous materials exhibit distinguished oil/water separation performance with combined advantages of high strength, high flux and high separation efficiency for micro/nano oil/water emulsions. The pore size of the porous materials can be easily tuned by changing the polarity of swelling solvents to meet the demand of separation of various oil/water mixtures.
在这项工作中,作者开发了一种将废弃聚合物转化为先进材料的简便方法。在绿色溶剂中对废旧热固型聚合物进行微波辅助溶胀,能够可控地产出互穿的微/纳米孔。获得的多孔材料表现出了显著的油/水分离性能,具有高强度、高通量以及高分离效率等优点,可以用于微/纳米油/水乳液。通过改变溶胀溶剂的极性即可方便地调节多孔材料的孔径,以满足分离各种油/水混合物的要求。
限时免费阅读原文,登录后可下载
扫描或长按二维码,识别后直达原文页面,或点此查看原文

3. Tunable internal quantum well alignment in rationally designed oligomer-based perovskite films deposited by resonant infrared matrix-assisted pulsed laser evaporation
Mater. Horiz., 2019, Advance Article
DOI: 10.1039/C9MH00366E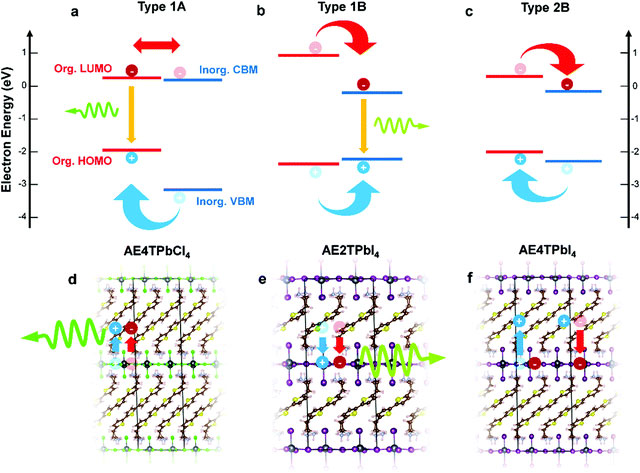 Herein, we demonstrate that resonant infrared matrix-assisted pulsed laser evaporation (RIR-MAPLE) is an effective film deposition technique for this materials class, enabling detailed study of photophysical properties. Films deposited by RIR-MAPLE enable transient absorption spectroscopy measurements on oligothiophene-based lead halide perovskites, providing a critical window into excited state dynamics and validating hybrid density functional theory (DFT) predictions of quantum well alignment between the various inorganic/organic moieties.
本文作者证明了共振红外基质辅助脉冲激光蒸发(RIR-MAPLE)是应用于杂化有机-无机钙钛矿材料有效的薄膜沉积技术,能够详细地研究其光物理性质。由RIR-MAPLE方法沉积的薄膜使得对基于低聚噻吩的卤化铅钙钛矿进行瞬态吸收光谱测量成为可能,为激发态动力学提供了关键的窗口,并验证了各种无机/有机结构之间量子阱排列的混合密度泛函理论(DFT)预测。
限时免费阅读原文,登录后可下载
扫描或长按二维码,识别后直达原文页面,或点此查看原文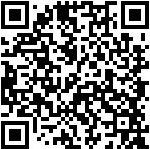 Polymer Chemistry (IF: 4.927)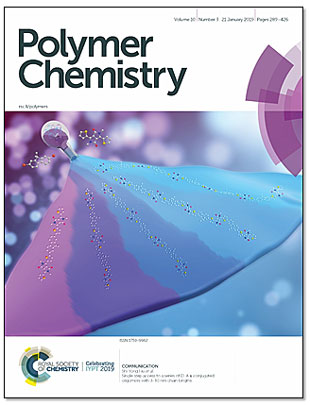 1. Supramolecular step-growth polymerization kinetics of pre-assembled triblock copolymer micelles
Polym. Chem., 2019, Advance Article
DOI: 10.1039/C9PY00539K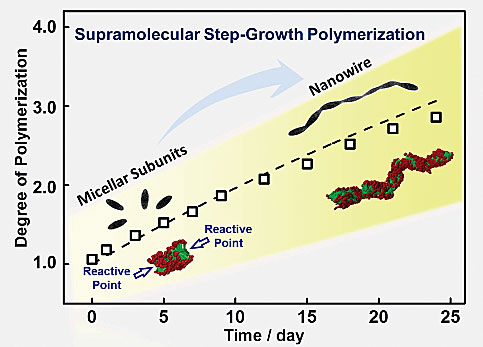 In this work the authors propose a theoretical model for the kinetics of supramolecular polymerisation to aid the design of complex supramolecular materials. They found that the rod-like micelles which form in the first step assembly contain structural defects caused by the incomplete coverage of the corona. The polymerisation process is induced by these structural defects so by changing their size and location the polymerisation process can be tailored. They found that the kinetics of the polymerisation differ from step growth polymerisation due to the difference in size of the structural defects.
作者在这项工作中提出了超分子聚合动力学的理论模型,用来帮助设计复杂的超分子材料。他们发现,在第一步组装中形成的棒状胶束因为冠不完全覆盖而导致结构缺陷。随后的聚合过程由这些结构缺陷引发,因此通过改变它们的尺寸和位置,可以定制聚合过程。他们还发现,由于结构缺陷的尺寸不同,聚合的动力学不同于逐步生长聚合。
限时免费阅读原文,登录后可下载
扫描或长按二维码,识别后直达原文页面,或点此查看原文
Biomaterials Science (IF: 5.831)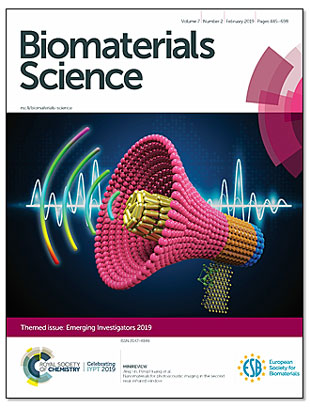 1. NOD2 negatively regulated titanium particle-induced osteolysis in mice
Biomater. Sci., 2019, Advance Article
DOI: 10.1039/C9BM00306A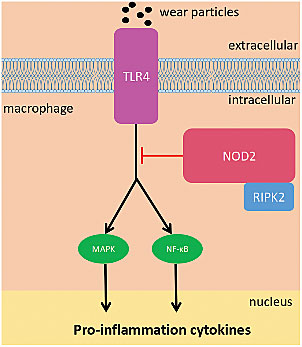 Patients undergoing total joint replacement are at risk of aspetic loosening (where the implant becomes loose in absence of an infection). In this work the authors demonstrate that the nucleotide-binding and oligomerization domain containing protein 2 (NOD2) plays a negative role in titanium particle-induced osteolysis both in vitro and in vivo. They also gained some insight into the mechanism of macrophage polarization.
接受全关节置换术的患者有无菌性松动的风险(即植入物在没有感染的情况下松动)。作者证明核苷酸结合寡聚化结构域蛋白2(NOD2)在钛颗粒诱导的骨溶解的体外和体内实验中都起负面作用,他们还对巨噬细胞极化的机制进行了更多探索。
限时免费阅读原文,登录后可下载
扫描或长按二维码,识别后直达原文页面,或点此查看原文